Electronic Books and Online Stories: Outstanding Resources for Reading and Research!
      Username: lisbon Password: books
     Username: Philipws Password: login
 Remember! You have to login in through the school catalog! Username: greyhound Password: readers
 A collection of electronic reference books.   Password: lisbon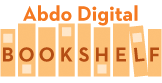 Username: lisbon Password: ebookslh
Salem Press/Greyhouse Publishing Reference Shelf for High School.  Password: explore

Free public domain audiobooks
Free public domain eBooks. An opportunity to explore the classics!